Home. In my mind, home is the place in which you feel most comfortable, with the people and things you most want around you. Or a lack of people and things if you are so inclined! In the fast pace world we have been occupying, staying at home for a bit just seems like a dream come true. No requirement to get dressed in "real" clothes, binge watching shows, reading the huge pile of 'must reads' by the bed, drinking tea/coffee for hours in the morning, no alarms, finally getting to the endless lists of projects that are saved for 'when we have a free weekend', tending the garden and the guilt free Wednesday afternoon cocktail hour. Staycation, what a delight! Oh wait…
The reality is, staying at home at the moment isn't really the relaxing holiday that we all would love right now. For many people it's become a combination of office and home and the lines are very very blurred. It can be really difficult to be motivated to get dressed in your work armour when all the regular rules seem to be thrown out the window and you don't necessarily have access to all your usual channels of beauty maintenance. That might be ok if you are in a job where you don't have to connect face to face. But what if you do? Those tech people making the fancy cameras on the computers have really got the clarity down and up close, well, that week old hairdo and the sparkly/dark hair coming through is in full screen, HD colour.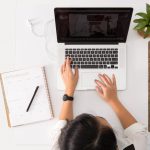 So how do you fix your hair woes when you can't get to your superhero aka your hairdresser? I'm sure the executives at the cosmetics company are rubbing their hands with glee, at the skyrocketing sales of home hair colour but I promise that is not the answer! It might seem like a great idea but there are just too many variable to consider and too many ways it can go horribly wrong to make it worth your while. There are some excellent stop gap semi permanent colours available through the salon that are of professional quality and are easily applied at home. Grey's are blended, yellow blondes are toned, reds are given a new lease on life and all the while your hair is kept in lovely condition. Purchasing something like this or a temporary spray or powder from your salon has two advantages. We know your hair, your colour and the product so we can give you the best advice possible and you get to support a brilliant local business! It might not be perfect but it will get you through, at least enough to fool the HD camera's and the mirror.. if you stand a bit further away.
So that's got your colour covered but what about the cut? Or just trying to mask the greasiest hair known to man? It's my favourite mantra… Product Product Product! Oh and accessories! This is the time for dry shampoo to shine in the only way it ever will. Dry shampoo is the magical (in my opinion) spray that absorbs oil from your roots and allows you that extra day or two's grace from your last wash. In my regular life, this gets a fair bit of play as I am possibly the laziest hairdresser ever when it comes to my own hair, and I need to look like an actual professional with good hair!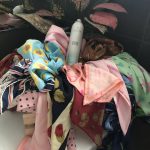 The runner up in this race for the lazy hair crown? The simple scarf. Great for short hair, long hair, growing out hair, up hair and down hair. It covers both hair that needs a little wash, hair that need a little brush, grey hairs, dark roots and makes even the most basic ponytails or bun look fancy. It's the hair band aid, it makes everything better! Paired with the sneaky trick of just washing your fringe in the sink and giving it a quick blow dry, it's like you actually did all your hair but in a fraction of the time.
It's not just the work from home people that are finding it hard. It's a weird time for everyone. Feeling lonely, scared, bored, restless and generally unmotivated can be very disheartening and make it challenging to put in the effort to look good. In my experience, taking a bit of time out to primp yourself, even if it's only 2 minutes, can really elevate your mood. Indulging in a home treatment for your hair, complete with your own hot towel (and a scalp massage if you can convince someone at your house!), popping on a fun coloured conditioner to try out that pink you always wanted, mastering the perfect hot tool curl or even just giving your hair a really good brush are great ways to feel more human and less like a member of the zombie apocalypse.
So get out your dry shampoo, brush on some root touch up powder and find your favourite scarf. Give yourself some hair love, even if it's only a little bit, and pete's sake… DO NOT COLOUR WITH 'BOX DYE'!**
Sarah
**Unless you fancy supporting your wonderful local salon with extremely expensive colour corrections down the track. Then go for it… let's get the economy going! I'm Kidding. PLEASE DON"T BOX DYE!!!