---
At this moment in time, it seems that all we are talking about is COVID-19. It has been a terribly challenging and overwhelming time for so many people, and it has been no different in salons. With so many views on what the "right" way to act in a salon is, it has understandably been confusing for both staff in salons around the world and for you, our lovely clients. With all this questioning, changing information and self doubt about our choices comes a sense of anxiety and uncertainty. For some this might be intense, for others it may only be mild but all of us are in the same boat. We are worried. 
As someone who has suffered from anxiety for most of my life, I am well versed in this language of fear, uncertainty and brains running rapidly out of control. It can manifest itself in many ways. Anger, irritability, and inability to sleep. Feeling generally uninspired to do anything. Tiredness. Poor concentration. Restlessness or feeling wound up. Obsessing over tiny incidents. Not wanting to leave the house.  And my favourite, the good old panic attack. So very glamorous – i don't think! 
I am a huge advocate for professional intervention. If your anxiety is getting out of control, there are a number of excellent websites that can guide you to a professional. My favourite is Beyond Blue, they are reputable and the website is easy to navigate. I looked them up myself before writing this to make sure I had my facts straight, and they really do have an extensive pool of resources!
So that's the bad news. But we've had enough of that! So here's some good news! There are HEAPS of things you can do to alleviate your anxiety, even if it's temporary. This is my number one. Put on your favourite outfit, even if it is  completely, ridiculously over the top. Do your hair and if you like it , put on makeup, particularly lipstick. You might just be watching TV or cooking dinner or wrangling your kids, but making an effort to look your best will honestly give you a massive lift. I give this advice to as many new mum's as I can, as that is a time of life which can be very anxiety inducing. Blow drying your hair, every time you wash it, will make it SO much easier to style. Even If you wear it in a top knot for the next 10 days, that top knot will look more "done", and you will feel 100 times better.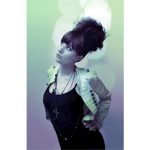 Take time out for yourself. Give yourself permission to spend an allocated amount of time doing something that makes you feel pampered and then focus on the pampering. Do a treatment on your hair and make sure you give yourself a head massage. It's definitely not as good as your hairdresser, but it might just give you a giggle and that's almost as relaxing! If you can focus on reading a book at the same time, it's a great way to get lost in the moment and forget your troubles.. Just don't start reading War and Peace. Maybe start a bit… shorter?  Or you could catch up on my older blogs? Just a thought 😉 If treatments aren't your thing, *gasp*, think about what makes you feel the most relaxed. 
This is a hair based musing generally but I'm going rouge! My favourite pamper is to lay on my sunlounger in the sun, with my favourite straw hat that ties up, my big vintage style sunnies and a cute dress/halter top I've made and read a book. Bonus points for a cool drink, homemade lemonade (or champagne!) being my go to.  I find being in the sun really just makes me feel more relaxed. Also it is proven to elevate your mood, just don't get sunburnt!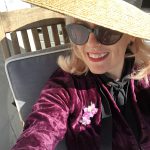 Exercise is also a brilliant mood elevator. It's also super hard to be anxious when you are trying not to fall over during downward facing dog. At least at home you can blame the dog for any accidental bodily functions! Running, walking, yoga, Pilates, Aerobics ( it's back on TV!), CrossFit, the list is endless, and the online content is freely flowing to find your perfect regime. Or just try a bouncy blow dry on yourself.. phew! That is a work out! 
I learned to sew while I was on my first Maternity Leave. All that time at home really messed with my head, much like it is doing to many of us right now, and I really needed something I had to concentrate on that I found enjoyable. Having that focused attention helped get my brain out of spiral mode, it brought back my ability to concentrate and as a bonus I got to make some great clothes that actually fit me! Sewing might not be your thing, it might be writing poetry, writing a blog, sorting out your cupboards, cooking, macrame, knitting, drawing, learning computer coding, building a website, playing an instrument, perfecting your hair styling skills… whatever it is that takes your fancy! Listen to your favourite song or make a playlist of songs that make you feel good. Find an awesome podcast. I love to listen to music while I work, all that positive energy I get from it really gets my creative juices flowing! 
Staying at home is important for the health of our society, but make sure you are taking care of your mental health at the same time.  We are open, and trading safely, if you are able to leave your home come and get your hair done! A new 'do will definitely lift your spirits! And save you from becoming a YouTube sensation on the next home hair cut montage… 
Much Love.
Sarah x